---
Yoram Abisror, Executive Director
Edna LeVine, Director of Community Engagement
Svetlana Ratchinski, Controller
Maya Lotan, Director of Youth & Young Family Engagement
Ran Ben Shabat, Director of Hillel Atlantic Canada
Shira Zipursky, Director of Jewish Family Services
Julia Lisker, PJ Library Russian-Speaking Program Coordinator
Yoram Abisror, Executive Director
Hello everyone! My name is Yoram Abisror, and I am thrilled to join the AJC as Executive Director.
I am coming to you from Montreal. I grew up in Israel and spent my early years working at the Hebrew University in Jerusalem, where I continuously coordinated with Canadian students.
I continued my work with the Canadian Jewish community for ten years through the Canadian Zionist Federation, the Jewish Agency, and B'nai Brith. In the following years, I came to Canada to direct two Canadian Young Judea summer camps in the Montreal area – Camp Kinneret and camp Biluim – and also to work with the Montreal Federation. Afterwards, I founded an international travel company that organized cultural, educational, and religious tours to countries worldwide, including Jewish tours and educational programs to Israel.
Before my professional career and following my military service, I spent a summer at Camp Kadimah as a Rosh Machar. After all these years, I am happy to be back in Atlantic Canada.
Over the years, I have had the pleasure of working with Jews of all ages, motivating them to be more involved in their communities.
The goals of the AJC have always been part of my working agenda as an informal Jewish educator and businessman. I very much look forward to working alongside the fantastic team at the AJC in contributing to the ongoing growth of our Atlantic communities.
Edna LeVine, Director of Community Engagement
As the Director of Community Engagement, Edna has overall responsibility for the AJC's community outreach short and long-term programs and initiatives including Holocaust education and immigration. As an innovative leader within the organization, Edna has fostered a culture that encourages excellence in program partnership, capacity building, volunteer participation and collaboration with local community organizations. Edna is the AJC's representative with the Nova Scotia Human Rights Commission group Partners for HumanRights, dedicated to working toward respectful and inclusive communities.
Edna has over 20 years of broad experience with all aspects of non-profit organization governance, administration, volunteer services and project management. A longtime Halifax resident, Edna earned a master's degree in educational psychology from Dalhousie University and completed a certificate in professional human resource skills from Saint Mary's University.
Contact Edna at (902) 422-7491 x226
---
Svetlana Ratchinski, Controller
Svetlana arrived in Halifax with the first group of Israeli immigrants supported by the Atlantic Jewish Community in 2009. She was born in the Former Soviet Union where she graduated from Odessa Polytechnic University with a diploma in electronic engineering of robotics and automation of production. In 1992, she immigrated with her family to Israel. She lived in kibbutz Grofit near Eilat for her first year in Israel and studied Hebrew. When the kibbutz program was over, Svetlana moved to Eilat where she lived for four years. Eilat is known as a tourist city and there was not much work in the industrial field, so Svetlana made a decision to change her career. She completed an accounting course at Eilat College and then moved with her family to Beer-Sheva where she worked in the accounting field for 12 years before immigrating to Halifax. Svetlana has been working for the AJC since October 2009 and is so pleased to be a part of Jewish life in Atlantic Canada. She hopes her work reflects her aspiration to support the Atlantic Jewish Community and is grateful for this special place that she now calls home.
Contact Svetlana at (902) 422-7491 x223
---
Maya Lotan, Director of Youth & Young Family Engagement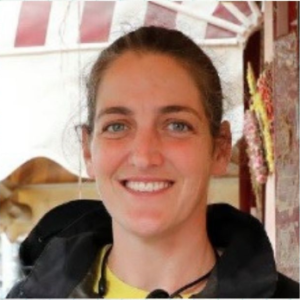 Hello! My name is Maya Lotan and I am so excited to become a part of the AJC team as the Director of Youth & Young Family Engagement.
My family and I moved to Halifax from Israel this year.
Jewish education has always been a part of my world. I have a teaching certificate, a master's degree in Israel studies specializing in modern history, and a tour guide license from the Israeli Ministry of Tourism.
As a Jewish educator and a tour guide, I have guided birthright trips, Jewish day schools, synagogues, families and federations in the past 20 years.
I am thrilled to be joining the AJC team. In my role as the Director of Youth & Young Family engagement, I will be acting at the Atlantic Jewish community's PJ Library program professional (planning lots of fun Jewish programs/initiatives for children of all ages), teaching at the Halifax Joint Hebrew school, and hopefully be joining the staff team at Camp Kadimah this summer on the shores of Lake William.
I can't wait to meet you all! Be on the look-out soon for some fun Jewish kids programming coming soon!
Want to get in touch with Maya? Reach out at 902-222-0552!
---
Ran Ben Shabat, Director of Hillel Atlantic Canada
Hi Everyone! I am so excited to be joining you as the AJC's new Hillel Director.
I was born and raised in Israel where I also did all of my schooling. I attended the Beit Berl Academic College for five years and earned a Bachelor of Education Degrees and a Teaching Certificate.
Education is a big part of my adult life. I have been a member of the Dror Israel Movement for 15 years. "Dror Israel" was founded by graduates of the Israeli Youth Movement, "Hanoar Haoved Vehalomed", who served together in the IDF, and shared a belief in the founding principles of Zionism. They recognized the power of education to change society and aimed to create a just and equal society through education.
Later I joined the Yigal Allon Center of Education at Kibbutz Ginosar located on the majestic Sea of Galilee (Lake Kinneret). I started as the Manager of the children's and youth department, and, after a year, become the Content Director and Pedagogical Consultant for all the educational activities of the center.
Last but not the least, I had the honor of working for the Jordan River Village, a unique overnight camp for children living with chronic, genetic, or life-threatening diseases and children with special needs. I was the Gap year Program Coordinator there for 2 years.Recently, I moved from Israel to Halifax NS. As you can probably guess, everything is very new for me and I am thrilled to be a part of both the Hillel and Atlantic Canadian communities. I am excited to discover and learn all about Jewish life in Atlantic Canada!
Looking forward to meeting you all!
Want to get in touch with Ran? Reach out at 902-225-3809!
---
Shira Zipursky, Director of Jewish Family Services
Shira has obtained the internationally recognized Master's Degree of Science in Child Life and Pediatric Psychosocial Care through McMaster University, Hamilton, Ontario. She also completed her undergraduate studies at the University of Manitoba, with a concentration in Family Social Sciences and Child and Adolescent Development. Shira has been very active within the not for profit sector, community and hospital settings across Eastern Canada for the past twelve years. As a practicing Child Life and Family Psychosocial Specialist, Shira provides developmentally driven psychosocial assessments, interventions, and support to pediatric and adult patients, parents, siblings, and families. Shira is looking forward to giving back to the Atlantic Jewish Community in this role of Director of Jewish Family Services. She is most excited to learn from and work with the community members to determine what the needs are in order to provide the necessary supports requested and required.
Shira can be reached by phone at 902-295-8531. Shira's regular weekly office hours are Tuesdays & Thursdays 8:30am-4:30pm, Fridays 9:00am-12:00pm. Please feel free to reach out to Shira if you are experiencing a human/family service concern. All contact with, and information provided to, Shira will be kept strictly confidential.
---
Julia Lisker, PJ Library® Russian-Speaking Program Coordinator
Hello. Let me introduce myself. I'm Julia Lisker and I'm parent connector for PJ Library Russian speaking program at AJC.
As a mother of two boys, Ben (14) and Joseph (6) I know how important and how it's hard sometimes to keep Jewish Traditions by ourselves, so far away of close friends and families.
As many of you, I had experienced 2 emigration, from Russia to Israel and from Israel to Canada where we finally feel at home.
I have Masters Degree of Culture Studies and Early Education that help me organize interesting interactive events that you are always welcome to take part of.
Please visit Facebook group АБВГДЕЙКА to be updated about upcoming events and to check out what we've done in the past.
You can reach me out by cell phone 902 880 7818.